St Ninians Episcopal Church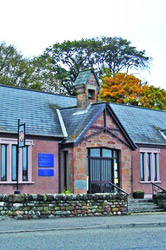 Saltburn Road, Invergordon,
IV18 0HH
Tel: 01862 881727
Services
Holy Eucharist (1st, 2nd, 3rd and 4th Sunday of the month) 10.30am. Joint Sung Eucharist with St James', Dingwall and St Anne's, Strathpeffer (5th Sunday) 11.00am.

Alternate Tuesdays: Holy Eucharist (Alness) 2.15pm.

Wednesday: Holy Eucharist 10.00am.
Clergy in Charge
Rev. James Currall
Tea, Tales and Treats
Second Wednesday of each month, 2.30pm - 4.30pm at St Ninian's Church hall, 7 Saltburn Road, Invergordon.
Come along for fun and friendship.
Contact: Val Dunford 01349 852485 / 07770682803