RAF - The world's first independent Air Force
Added by Hannele Korhonen on 25 March 2019
One hundred years ago, King George V authorised the creation of a new branch of the British Military. It was formed in response to the growing role of airpower in warfare, and created by merging the avaiation branches of the Royal Navy and British Army together into a single service; The Royal Airforce.
There currently is an exhibition at the Alness Civic & heritage Centre about the RAF and the war efforts in the area. Why not pop in and have a look!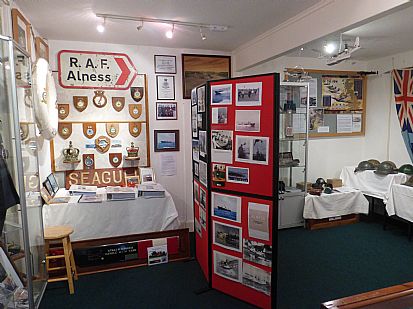 If you're interested in this subject, they also have for sale a booklet called 'Alness at War'.
Our story of Alness at war has been a few years in the making. We bought the heritage centre in 2000 and have been slowly collecting the material since then. In that time we have met many men and women who were here in the time from 1939-1947 when the Sunderlands came to Alness and almost 10,000 people came to the area to learn to fly them and the Catalinas which joined them, and many more came to service them and look after them. There were people from every trade; from carpenters to metal smiths, to shoe makers and tailors, to cooks and radio operators. There were camera experts, armaments experts, seamen and pilots. Some teaching and many, many learning. At its peak, Alness was turning out 22 crews a month. When you consider a crew consisted of fourteen people, the figures are huge.
This is not only the story of these young people, it is also the story of the local people who welcomed them and looked after them; taking them to their homes and their hearts when they were far from their own homes and families.